Software
AeRa Technologies offers support ranging from consulting to the successful incorporation of CAE software solutions into your workflow.
Are you planning to incorporate an established CAE application from the portfolio of market leader MSC Software GmbH (part of the Hexagon Group) in your company?
Benefit from our more than 25 years of expertise as high-end users of MSC software products in a wide range of industries! Learn more about the MSC portfolio here.
Or would you like to introduce a CAE solution tailored to your needs in your company? We develop your individual software product and support you from the concept to support and further development.
AeRa Technologies is business partner of MSC Software GmbH (part of Hexagon group of companies)
AeRa Technologies GmbH is a certified business partner of MSC Software GmbH (part of the Hexagon group of companies). As a reseller, we distribute an extensive portfolio of innovative simulation software, advise you on the use of different software solutions and support you with targeted training for efficient implementation in your company.
MSC Software is the leads the industry in Computer Aided Engineering (CAE) and its products are used by 900 of the top 1,000 manufacturers worldwide. Solutions range from finite element analysis (FEA), acoustic calculations, optimization, durability analysis and multi-body simulation to data & process management. MSC Software offers solutions for almost all engineering disciplines and enables complex co-simulations.
Thanks to our many years of experience with MSC software products in a wide range of industries, we always have a practice-oriented integration into your workflow in mind and will be happy to provide you with non-binding advice based on specific applications from your environment.
Therefore, we create an understanding of your key tasks and can advise you in a targeted manner –
In return, you will gain certainty about the exact benefits of using the software in your company.
Overview and direct link
Here we present a selection of products from the MSC Software portfolio:
MSCOne
One licensing model – Many simulation tools!
The MSCOne licensing model is based on a token system that allows users to flexibly deploy the software they need in the product development process – from materials research to design and verification to simulation and optimization of manufacturing processes. Companies can in turn derive maximum benefit from the software, regardless of the size of their CAE budget. MSCOne is offered in 3 different packages depending on your needs: an attractively priced entry-level solution "StartEdition" with the most common applications, MSCOneXT with the extended MSC portfolio and as MSCOne for Manufacturing.
The advantages of MSCOne at a glance:
Accelerate innovations
Increase productivity
Minimize financial risk
Reduce costs
Would you like more information about the MSCOne license model?
We look forward to hearing from you! software@aeratech.de
MSC Nastran
Multidisciplinary FE solver
MSC Nastran is the standard for FEM structural analysis in the fields of statics (linear and nonlinear), dynamics, acoustics and is most widely used worldwide for product development in a wide range of industries.
Two years after the foundation of MSC Software in 1963, the then still young company developed the universally applicable FE-program "NAsa STRuctural ANalysis", in short NASTRAN, together with NASA and is thus regarded as the forerunner of all FEM-programs existing today.
MSC Nastran strengths include:
Advanced nonlinear functions
Dynamic analyses
Calculation of fiber composite structures
Optimization
Multiphysics simulations
High Performance Computing (HPC)
Since then, MSC Nastran has been consistently further developed to the holistic multidisciplinary simulation solution with strong algorithms for nonlinear calculations that exists today. MSC Nastran is also characterized by the extremely fast solver, very low memory requirements and a high level of user-friendliness.
Students can test MSC Nastran without obligation and free of charge with an MSC Student Edition:
software@aeratech.de
MSC Apex
Unified CAE environment for virtual product development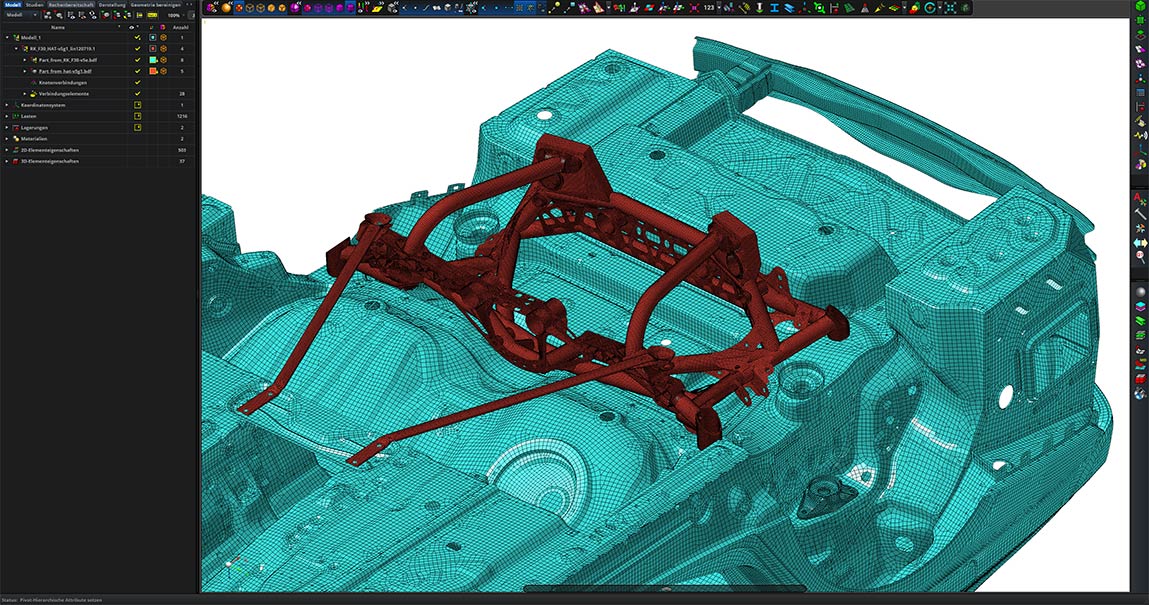 MSC Apex combines in one platform innovative technologies for modeling & FE meshing (preprocessing), an intuitive FEM calculation using the integrated FE solver MSC Nastran and a highly efficient postprocessor for result evaluation and presentation.
MSC Apex is characterized in particular by its interactive editing of solids, surfaces and features by means of touching/dragging surfaces, edges and vertices directly in the model.
This intuitive operation thus enables a highly effective mode of operation and sets benchmarks in this area.
Other methods, such as automated center surface creation and connection, automated mesh updating in the event of subsequent geometry changes, and continuous checking for computational readiness, also contribute to the fact that only a fraction of the usual time must be scheduled for this part of the work in the product development process.
MSC Apex strengths include:
Strong tools for geometry processing
Direct modeling through interactive operation
Networking and network editing and modification
Support for a wide range of CAD formats
Short training times by means of informative embedded videos, work instructions, mouse instructions and documentation
Postprocessing
Multilingual
You would like to test MSC Apex without obligation and convince yourself? We would be happy to provide you with a 14-day test license:
software@aeratech.de
MSC Apex Generative Design
End-to-end solution for product developers in additive manufacturing
MSC Apex Generative Design provides a total solution for product designers from digital concept to finished part for additive manufacturing. MSC Apex Generative Design enables designers to develop, optimize, and validate parts at top speed without the expert CAE knowledge of an FEM calculator that is typically required.
Through simple and user-friendly operation combined with a fast and efficient solver of the "Generative Design Engine", users have been able to realize time savings of 80% – from initial geometry to preparation and optimization.
The benefits of MSC Apex Generative Design specifically include:
Automatic mesh generation
Robust automated resolution adjustment
Intelligent smoothing
Stress based optimization
Automated traceability to CAD
Optimization for additive manufacturing
Significant time savings
As part of the optimization process, it is also possible to predefine material allowances for subsequent machine reworking and connection areas to neighboring structures, as well as to control the complexity of the result.
Resulting geometries can be immmediately exported to an additive manufacturing process without manual post-processing.
Marc
Solver for implicit nonlinear FE analyses
The FE solver Marc is tailored to solve complex design problems with advanced nonlinear structural analyses, contact calculations, complex material models and multi-physics requirements.
With its comprehensive and robust algorithms, Marc is optimized for nonlinear analyses that can also consider coupled effects such as structure, heat propagation, acoustics, magnetostatics & -dynamics or electromagnetism.
Marc's strengths include:
Nonlinearity and multiphysics
Nonlinear analyses considering all kinds of nonlinearities
Thermal analyses
Metal sheet forming processes, welding, hardening, vulcanization, etc.
Multiphysical analyses such as thermomechanics, electromagnetism, piezoelectrics, electrical-thermal-mechanical coupling.
Electrostatics
Contact analyses
Simple and user-friendly modeling of contacts in 1D, 2D or 3D. In addition, there is no need to define contact elements, contact pairs or slave-master definitions.
Calculate and investigate intrinsic contact without modeling effort.
Simple consideration of friction effects.
Nonlinear materials
Isotropic, orthotropic and anisotropic elasticity
Isotropic and anisotropic plasticity
Hyperelasticity
Time-dependent and -independent behavior etc.
Error analyses
Ductile Damage, fracture analysis and crack propagation
Damage accumulation in elastomers
Failure analysis of composite materials
Automatic remeshing
2D and 3D models
More accurate results with less modeling effort
Ensuring good element quality under extreme deformations, e.g. in elastomer components or forming processes
Beneficial for self-contact and simulation of manufacturing processes
Students can test Marc without obligation and free of charge with an MSC Student Edition:
software@aeratech.de
Cradle CFD
Smart multiphysics flow simulation
Cradle CFD comprises several flow simulation solutions that are used as state-of-the-art applications in the automotive, aerospace, electronics, architecture, civil engineering, mechanical engineering and maritime industries. Cradle CFD is characterized in particular by its high process speed, implemented high-end technologies as well as a pragmatic and easy-to-learn user interface.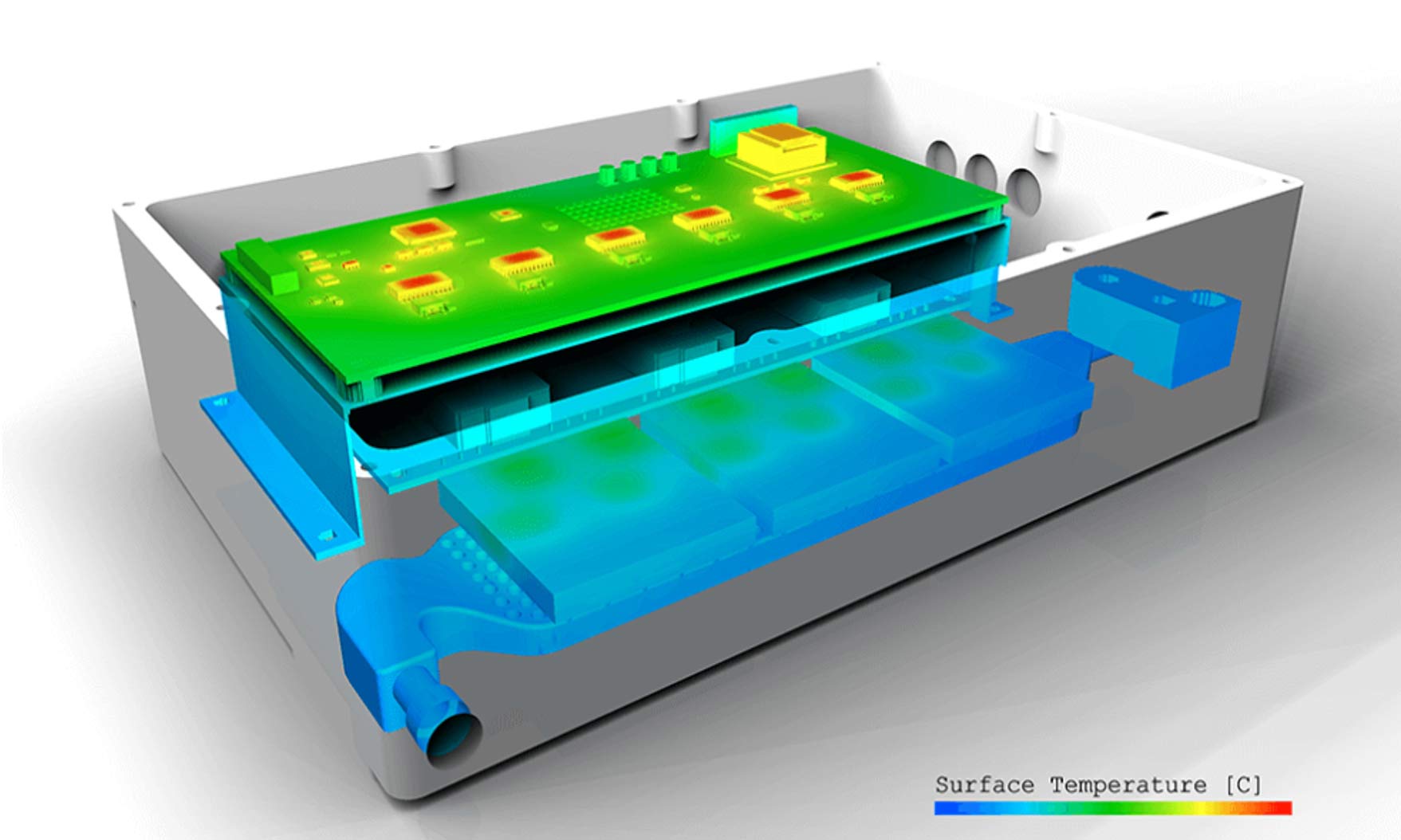 The problems to be solved in thermal and flow analysis are equally diverse as the respective products and requirements present in various industries.
The integration of powerful multiphysics co-simulations and coupled simulations such as structural, acoustics, mechanics, electromagnetism, thermal environments, 3D CAD, etc. allow the analysis of a wide variety of effects on the component and their interactions. If considered separately, these influences could lead to inaccurate and/or misleading results. In combination with the award-winning post-processor features, Cradle CFD is thus applicable to complex physical problems even for non-CFD specialists.
Cradle CFD includes the following modules:
scFLOW (software for flow and thermal calculation with polyhedron mesh)
scSTREAM (Universal software for flow and thermal calculation with structured mesh)
scPOST (Comprehensive and versatile software for visualization of results)
PICLS (Simple real-time 2D thermal analysis tool)
Adams
Top standard in multi-body simulation
Adams is the world's most widely used Multibody Dynamics (MBD) software and supports engineers in the development of mechanical systems. Adams makes it possible to investigate and validate overall system behavior early in the product development process.
Consequently, the complex interactions between system disciplines, including motion, structure, actuation, and control can be evaluated to optimize product design for performance, safety, and comfort. Using Adams as part of this early design validation improves the technical efficiency of the product, reduces development costs, and avoids costly late design changes and rework.
Adams is optimized for large and complex system models and uses High Performance Computing (HPC) methods.
Adams covers multidisciplinary analyses with optional modules that can be used depending on system requirements for mechanical components, pneumatics, hydraulics, electronics and control system technologies.
Adams Modules
Adams Modeler (optimization of model management)
Adams Car (tailored for the development of virtual prototypes of vehicles and vehicle subsystems)
Adams Machinery (powerful simulation platform for mechanical drive systems)
Adams Real Time ("Hardware in the Loop" solution combining software models with hardware such as driving simulators)
Adams MaxFlex (integrates mapping of geometric, material and boundary condition nonlinearity).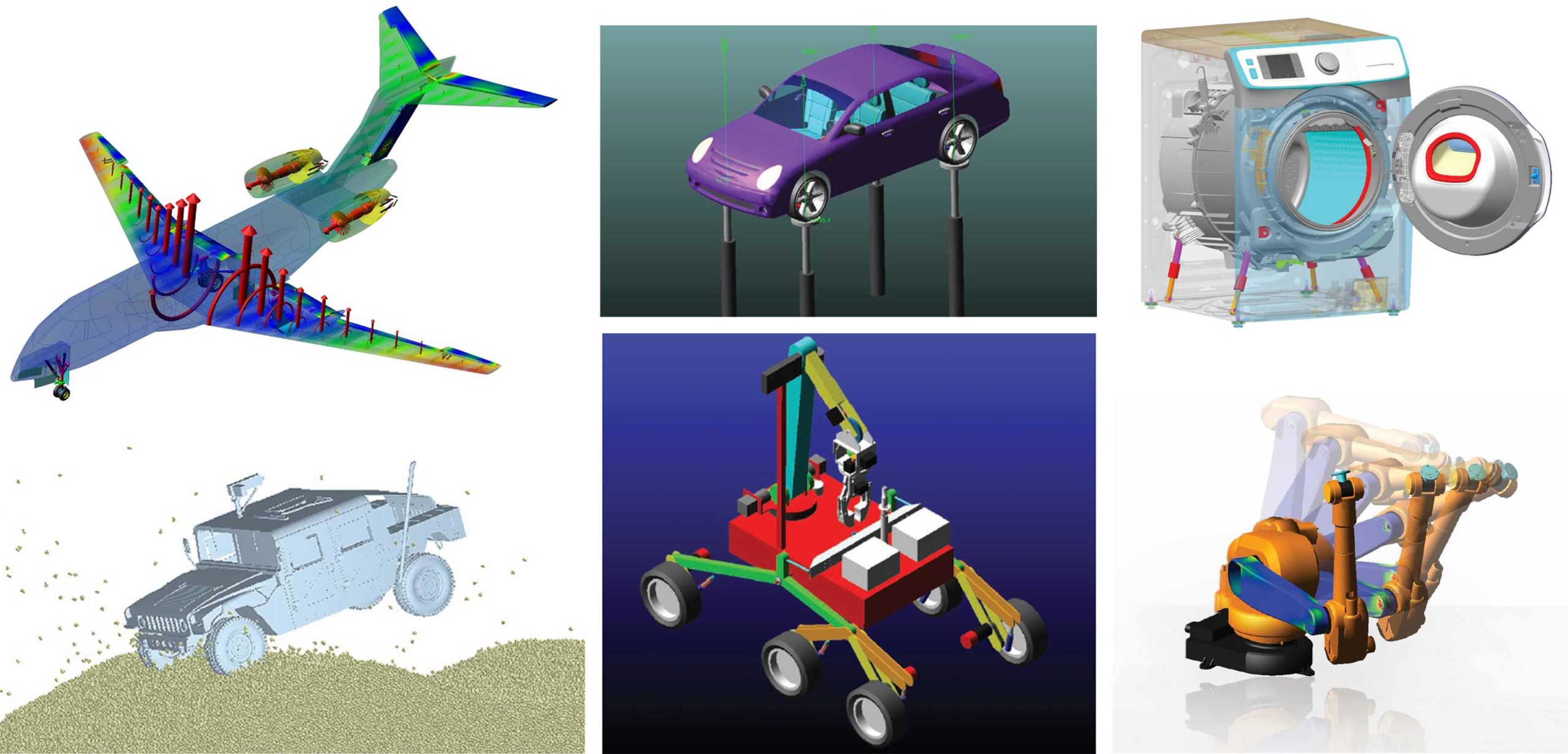 Simufact
Virtual manufacturing for the metalworking industry
With the Simufact software solutions, manufacturing processes and procedures can be simulated in early product development phases and thus product-defining manufacturing requirements can be included. The manufacturing simulation identifies optimization potentials that improve product quality and reduce costs and time-to-market. The application spectrum of the Simufact software covers a wide range of forming and joining processes as well as metal-based additive manufacturing processes through the three product lines Simufact Forming, Simufact Welding and Simufact Additive.
All Simufact products are characterized by a pragmatic and intuitive operation, which can be used without FEM knowledge and is thus tailored for manufacturing and process planners as well as operation schedulers, among others.
The three product lines are characterized by the following application areas:
Simufact Forming
Simulation of forming technologies such as forging, cold forming, sheet metal forming, incremental processes and mechanical joining
Microstructure simulation
Calculation of tool load and material flow
Prediction of material properties due to heat exposure
Thermo-mechanical joining methods (pressure welding)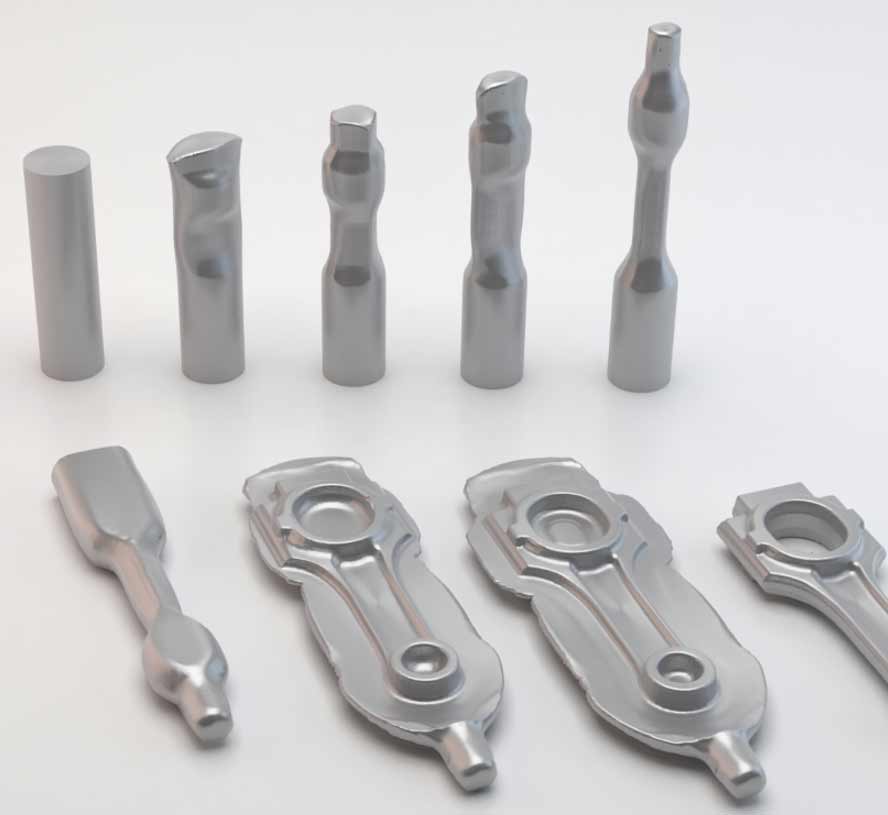 Simufact Welding
Optimization of various fusion and pressure welding processes
Consideration of welding sequence and clamping
Support of processes such as arc welding, laser beam welding, electron beam welding, brazing, resistance spot welding and generative manufacturing processes "Direct Energy Deposition" (DED or WAAM)
Illustration of heat treatment, cooling, loosening, mechanical stress.
Simufact Additive
Scalable software solution for simulating metal-based additive manufacturing processes such as powder bed fusion (L-PDF) and metal binder jetting (MBJ).
Determining deformations, residual stress and temperature distributions
Simulating component behavior during compression-, heat treatment, cutting, hot isostatic pressing (HIP) and machining processes.
Optimization of printing times, support structures and material use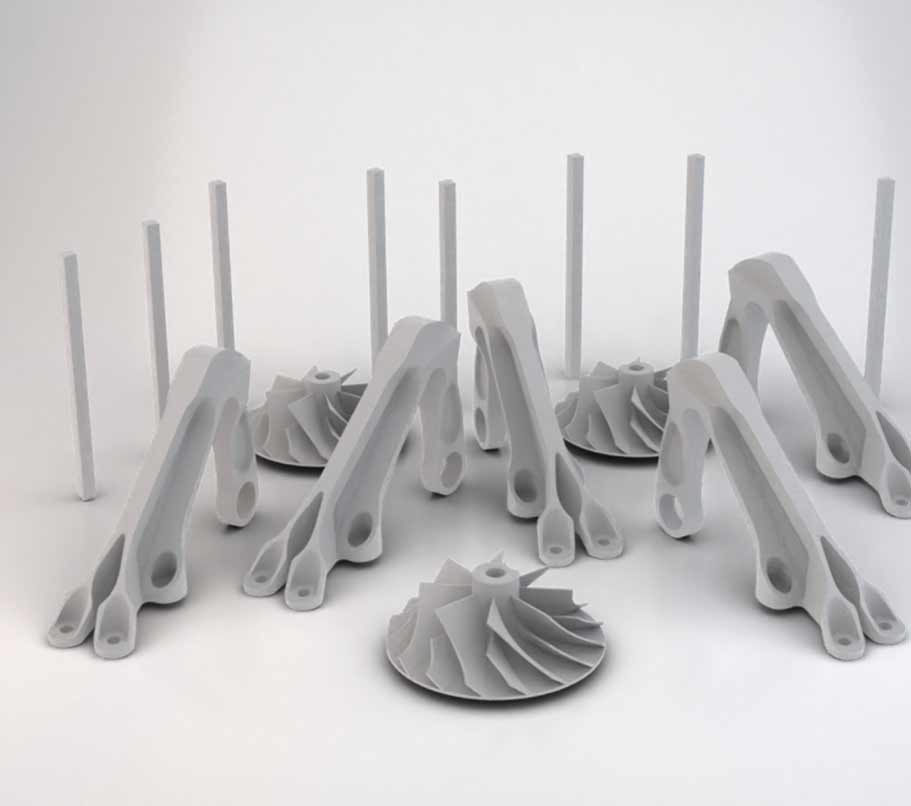 ODYSSEE
AI methods & solver analyses in real time
ODYSSEE delivers real-time solutions for product development, -manufacturing and -quality. The two packages ODYSSEE CAE and ODYSSEE A-Eye use innovative techniques of Machine Learning, Artificial Intelligence (AI), Reduced Order Modeling (ROM) and Design Optimization to enable statements about variations of model parameters and their effects on the product.
ODYSSEE CAE analyzes predictions, optimizations and generates exact results in real-time for new product variants based on a few existing CAE simulations, instead of usually having to perform new and very time-consuming CAE simulations. ODYSSEE CAE provides a comprehensive output of results over the entire product history, including complete CAE analyses and detailed post-processing. ODYSSEE CAE efficiently processes extensive technical product requirements and their data from areas such as structural mechanics and dynamics, acoustics, fluid mechanics, materials and manufacturing and creates insights for optimized and safe products in the shortest possible time.
ODYSSEE A-Eye is an image-based machine learning solution that sets new standards in product development. ODYSSEE A-Eye provides answers for new product designs based on existing data such as images, measurements, curves and CAD data. This enables designers as well as manufacturing technologists to utilize the available design space with high efficiency and increase product quality without time-consuming new CAE simulations.
ODYSSEE is characterized by the following applications:
Machine Learning & AI
Statistics, Data Mining, Data Fusion
Robust optimization methods
Process Discovery
Image recognition and compression
Would you like more information about MSC software products? Arrange a free consultation with our team! 
software@aeratech.de
Are you facing complex challenges in your work environment that could benefit from the support of a custom-tailored software solution?
We develop individual software products according to client needs from the first concept to the support. Our team, consisting of engineers and IT experts with many years of project experience in technical areas, always focuses on user orientation and develops according to the principle "From users for users".
In doing so, it is essential to discuss software functionalities in close collaboration with the subsequent users with as much detail as possible.
Our development process:
In addition to the submitted specifications, we discuss the current methods with your team, analyze the requirements and the goals to be achieved.
Elicitation of possible technologies to be considered for deployment and outlining of a software architecture.
Designing solutions to your technology challenges.
After finalizing a solution concept, we create a requirement specification, which contains a detailed description of the planned implementation of the project and thus provides transparency about the expected product.
Once approved, the SW architecture will be implemented into a customized application for you using appropriate tools such as Python, C++, VBA , SQL,
Initial testing of completed components in-house and subsequently in your IT environment to counteract potential problems at an early stage.
Intensive test phase of the completed software at our premises with associated documentation.
Delivery of the software package with the source code, compiled program and documentation. In addition, we are happy to provide maintenance and support for the software.
Would you like a non-binding consultation for an individual solution? We look forward to hearing from you!
software@aeratech.de